West Indies may have lost yet another Test series against a higher ranked team. However, they still have something to play for going into the final Test. They will be keen to avoid a whitewash. It will be a tough job for sure, but they can look at some real positives going into the Edgbaston Test -- some created by themselves and the other thanks to the opposition.
The game will surely see mystery spinner Sunil Narine making his Test debut. But for being taken apart in the final by Suresh Raina, Narine was unplayable throughoutthe IPL. Even the great Sachin Tendulkar failed to pick him up. And while Test cricket will be an altogether different proposition, the Windies would be buoyed by the fact that England aren't great players of spin.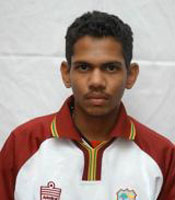 They struggled miserably against Saeed Ajmal and Abdur Rehman in the UAE. Of course, they will be playing Narine at home, but that doesn't mean he won't be effective at all. The fact that England players don't have prior experience of playing him should work in Narine's favour. Whatever the result, the contest between Narine and England's batsmen will be intriguing nonetheless.
There are two other factors which will also give the visitors hope. First and foremost, the sudden retirement of Kevin Pietersen from ODIs would have shocked the Englishmen for sure. That he will, henceforth, will only available for Tests is something England will take time coming to terms with. This will mentally impact the team for sure. And here in lies Windies'chance to catch them off guard. Secondly, the home will also miss the services of one of their best bowler on show in this series -- James Anderson. The pacer has been rested, which will definitely be a sigh of relief for West Indies' struggling batsmen.
These two factors, however, cannot be enough for West Indies to get the better of England. They need to come up with some good performances of their own. In the batting department, the top order has to get its act together if the Windies hope for a turnaround. If they don't, it will make it clear that they are incompetent to do the job and West Indies must look elsewhere. In the meantime, they will also hope for Chanderpaul, Samuels and skipper Sammy to continue their excellent series with the bat.
England will begin as favourites even if Anderson and a few others are rested.
--By A Cricket Analyst