It's official now. Chris Gayle will make his comeback to international cricket after a gap of 15 months when West Indies take on England in the ODI series. And while this is awesome news for fans of both Caribbean and world cricket, the fact of the matter is that only part of the job is done for WICB and co. There are still a couple of other senior players dissatisfied with the way Windies cricket is being run and have found themselves out of favour for some reason or the other.
The big name in this group is Ramnaresh Sarwan. A man with the experience of over 80 Tests and 170 ODIs, Sarwan has accused the Windies management of mentally hurting him, as a result of which he has been away from the Caribbean scene for nearly a year now. He last featured for West Indies in the series against India at home last year. In the series, he clearly wasn't at his best. In hindsight, however, his struggling knocks in the 2011 World Cup point to the fact that all has not been well in West Indies cricket for a while now.
Even as the rest of the batsmen kept falling one after the other during the mega event, Sarwan held one end up. However, he was nowhere near his fluent best, and failed to convert any of his starts into substantial scores. As things unfolded, we came to know that he wasn't very comfortable with the surroundings, and hence the on-field struggle. It has been disappointing since, at his best, Sarwan is among the most refined timers of the cricket ball. WICB have done well to get Gayle back, but for Windies' sake they need to try and get Sarwan back as well. The team is poorer without him.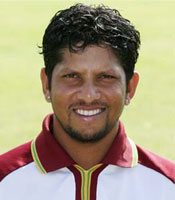 What's wrong between Sarwan and WICB, one is not quite sure. In one of his interviews, Sarwan hit out at coach Ottis Gibson for the way he managed things. Of course, Sarwan can't blame only the other side for his failures. It is a known fact that he hasn't done justice to his potential in a career spanning 11 years. More often than not, he has disappointed than regaled. But here the question is about the betterment of Windies cricket. Both sides will need to make some compromises, just like it happened in the case involving Gayle. The fact of the matter is that Sarwan is only 31, and still has plenty of cricket left in him if he gets his act right. He can take a lead from Marlon Samuels, who is also about the same age and made his debut around the same time as Sarwan.
As for Jerome Taylor, the WICB will have to do some similar thinking on that front as well. Taylor is a talented bowler, even if an underperforming one. As it is West Indies are struggling to succeed. The least they can do is put their best team on the park.
--By A Cricket Analyst