By Garfield Robinson
On the third day of the second test Shivnarine Chanderpaul fell 4 runs short of what would have been his 25th test century. Australia had fought their way to 311 in their first innings that the West Indies was trying to match and even surpass their total. While Chanderpaul was at the crease hope remained there with him. Once he had departed there was only apprehension.
It has been so for a while. The brittleness of the West Indies batting over the past decade or more has meant that a collapse is hardly ever a distant memory. Rather it is always hovering over the horizon, like a dark cloud threatening a thunderstorm.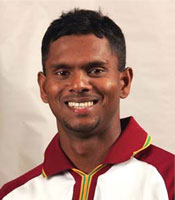 The threat did not always materialize; the storm was sometimes averted. And often, the man who stood between humiliation and respectability for the West Indies was the obdurate Guyanese, prodding, tapping, deflecting, edging even, but batting—usually for a very long time.
No full-throated flamboyance from him. That is left to his more flashy teammates, like the incomparable Brian Lara in the past, and his present day clone and cousin, Darren Bravo. Chanderpaul simply digs in and bats. Even when all is crumbling about him he remains resolute, warding off the storm. He once batted 25 hours and 13 minutes over 4 innings and scoring 362 runs without losing his wicket. How India must have hated the sight of him coming to the crease in that series!
And don't think he can't be aggressive too. When the mood takes him, or when the situation requires it, he can score as quickly as most. His 69 ball hundred against Australia on his home ground at Bourda in 2002 is fourth on the list of fastest test hundreds, while his memorable 1996 assault on Shane Warne in Sydney was only interrupted by what Warne regarded as probably the best ball of his career.
But that was not really his game. He was the immovable one, the fighter, the tiger; batting as if his children's lives depended on him remaining at the wicket.
There is a myth that the lefthander is the more elegant of the specie. Well there is hardly anything elegant about Chanderpaul. Not that he cares; crabby is a word often used to describe his methods. And how effective his methods have been. Watching the ball closely, playing unbelievably late, and ignoring anything not threatening his stumps, he has mastered the science of survival.
Chanderpaul is now in his thirty eighth year and so the day cannot be far off when he will leave the crease for the last time. I can imagine he would not be looking forward to that day for the crease has been like a second home; probably even a first, because a travelling cricketer is never in one place for very long. The crease is probably where he is most comfortable, where he is most at-home.
The West Indies' batting will probably continue to lack consistency after Chanderpaul decides to hang up his helmet. That would be a shame, for they had in their midst for a very long time a man who is among the most reliable to don the maroon cap. Their inability to appreciate his value and grasp his ways cannot be laid at his feet—he can't hold their hands forever. So in the time that he has left with them they would do well to sit and learn at the feet of the master.