Former Australian cricketer Geoff Lawson feels that Ricky Ponting should have retired soon after the Adelaide Test against India. Lawson has slammed Ponting for taking a decision on his ODI retirement only after getting dropped from the side during the ongoing CB Series. The former Pakistan Coach Lawson is of the opinion that Ponting is doing things only in his self interests.
Lawson questioned that if Ponting felt that he had to retire on a high then he should have done that right away after the Adelaide Test in which the 37-year-old struck a double century. Lawson predicts that Ponting's performances in the near future will only come down rather than going up. Ponting has already conveyed that he aims to finish his cricketing career after next year's Ashes.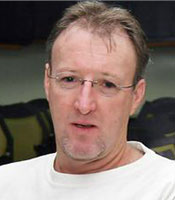 Meanwhile, former Australian Great - Allan Border has given his support to Ricky Ponting on his decision to continue in Test Cricket. Border though accepting that Ponting may not be performing to his highest potential says that the latter is still better cricketer than any of the youngsters even now. The former Aussie Captain insists that Ponting has still love on the game and that he is the second best Australian batsman after Sir Don Bradman.