The First T20I between Australia and India was played on a drop-in pitch at the multi-sport hosting Stadium Australia in Sydney. There were speculations ahead of the game as how the pitch might play but in the end it did produce a decent contest between bat and ball which Australia won by a comprehensive margin of 31 runs. When Australia batted, the Indian bowlers struggled with the wet ball because of the drizzle. But when India came out to bat, the ball seemed to be stopping onto the pitch when the spinners bowled and it even turned and gripped. India lost the match because of losing wickets in a bunch!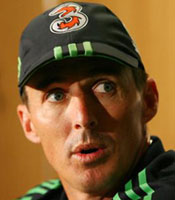 The best bowler of the match was perhaps Brad Hogg who made an international comeback today stunningly at the age of 40 years! Hogg was not so long ago sitting in the comfortable chair of a TV Commentator! But now we understand why the Australian Selectors have picked him because today the Indian batsmen just had no clue at all in what was coming at them from Hogg the Frog! Especially India Skipper MS Dhoni looked like a bunny against Brad Hogg whose figures were 4-0-21-1. Let's see the Fall of Wickets in this match – a total of 10 with four falling in the Aussie innings and six in the Indian innings. Well here is how all the Wickets fell in the First KFC T20I at Sydney as recorded by Cricwaves.com:
Fall of Wickets in the Australian Innings
Over 3.5 R Vinay Kumar to DA Warner, CAUGHT, Warner makes room to go big over long off but gets it right at the bottom of his bat and is caught by Raina at covers, quite a high catch.
Over 9.6 R Ashwin to TR Birt, CAUGHT, Birt drives the full toss straight into the hands of Raina at extra covers!
Over 15.4 SK Raina to MS Wade, BOWLED HIM, Wade goes back making room for a late cut but only to get beaten by a quicker one and has his off stump rattled!
Over 19.5 Rahul Sharma to DJ Hussey, CLEAN BOWLED, Hussey makes room to try and slog it over wide long on but is way too early in his shot and misses a flat delivery which hits off and middle!
Fall of Wickets in the Indian Innings
Over 0.3 B Lee to V Sehwag, 143 kmph, CAUGHT, Sehwag comes half forward and looks to whip it across the line but can only get a thick edge to a fast outswinger which is nicely caught at slip by Hussey.
Over 5.3 DJ Hussey to G Gambhir, CAUGHT, Gambhir makes room for a lofted shot inside out, doesn't get the elevation and can only get caught at covers.
Over 6.4 GB Hogg to V Kohli, CAUGHT, Kohli goes back for a pull to what appears to be a flipper which kicks up to and Kohli can only miscue it straight into the hands of Warner at long on!
Over 7.1 DJ Hussey to RG Sharma, BOWLED HIM, Rohit is gone for a first ball duck! Rohit goes back for a flick and this delivery from round the sticks turns in to brush the pad and then goes through the gate off the rebound to hit the stumps!
Over 13.3 DT Christian to RA Jadeja, CAUGHT, Jadeja looks to loft a full delivery and it comes right off the toe end of his bat and skies up in the air towards long off where Warner runs in a quite a few yards and ends up taking a low catch!