By Garfield Robinson
Two vital late wickets, one in the very last over of the day, severely diminished whatever prospects the West Indies had of pressing to victory on the last day at Dominica. Australia was bowled out for 259 with Shane Shillingford ending with match figures of 10 for 219 to become the first West Indian spinner to take ten wickets in a test since Lance Gibbs did it in 1966.
The target was 370 and Chanderpaul and Bravo were progressing with little bother when with seven overs to go Harris silenced the gathering when he induced Bravo to edge a delivery going slightly across him for Wade to take well to his left. The pair added 110 runs,and while they were in the middle their team would have harbored some hope of achieving what would have been an outstanding victory. As the game now stands, with the West Indies at 173/5 and requiring another 197 runs, Australia should be celebrating victory long before the scheduled close on the fifth day.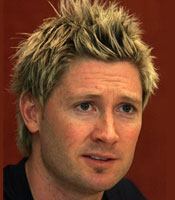 The openers fell cheaply: Barath, without a run on the board, was brilliantly caught by Cowan at square leg when he failed to keep down a flick off Hilfenhaus, while Brathwaite ill advisedly tried to pull Clarke, bowling his first over, and was LBW for 14. Powell again flattered with his upright stroke-play. He latched on to anything loose and appeared to be in little trouble when he went half-heartedly forward and allowed Lyon to sneak one through the gate to bowl him.
Chanderpaul, who became the second West Indian after Brian Lara to score more than 10,000 test runs when he crossed 14, then joined Bravo and one felt that if the West Indies were to get close to the target then this pair would have to bring them most of the way. Chanderpaul was his usual self: nudging, deflecting, glancing, eschewing all risks but taking whatever scoring opportunities came his way. On a pitch still providing the spinners with bounce and turn he played exactly one sweep shot. There was also a single drive through the covers for 4 off Hilfenhaus when he was confident he got close enough to the pitch. He reached 50, which came off just 90 balls, when he edged Harris past slip for 4 and was so at ease that a big score looked on the cards.
Bravo was only slightly less secure. Unlike his partner, he was quite willing to play the big off-drive, once having a lucky escape when a miscued onejust managed to evade the midwicket fielder. Not as skilled as Chanderpaul in ticking over the runs, he waited on the loose ball and tried to put them away.
Clarke had rung the changes rapidly in an attempt to separate the two. Watson was two overs into his second spell, with just seven to go before the close when the partnership was broken.
Past behavior of this team suggests that the 215 needed to achieve victory already represented too heavy a lift for the remaining batsmen. Yet things got even worse in the last over of the day when Clarke had Chanderpaul LBW after a referral. It was a fatal blow.
Australia, 200/6 overnight, started the day in a hurry. Hussy swept a badly directed first delivery from Shillingford for 4. Next over Harris played an on-drive worthy of Michael Clarke and nine came from Sammy's first over of the day. But the turn and bounce that has been present for almost the entire match indicated that batting was not going to be without hazard.
Hussy was the first to go when a sharply turning delivery from Shillingford found the edge of his defensive bat and Sammy took the catch at slip.Starc was lucky to survive for as long as he did and in one over from Shillingford he did not connect with a single delivery. But he got in some telling blows, including a six hit high over long on. He was last out for a valuable 21 when Roach bowled him through the gate with a ball slanting in from round the wicket.
Earlier Harris had top-edged an attempted slog-sweep that went skyward and Baugh took the easy catch. Next over Hilfenhaus became Shillinford's tenth victim for the match when he got one to bounce alarmingly and Brathwaite leapt to his right to take a catch that seemed to come off the bat's handle. Lyon, who tried to sweep everything, sometimes successfully, was left not out on 12.
Australia had added 59 very valuable runs, leaving the West Indies with a huge mountain to climb. Chanderpaul and Bravo took them some way up, and had threatened to bring them much farther before they both fell close to the end of play. If they succeed in ascending all the way to the top on the fifth day, it will be nothing short of a miracle.