Australia won the 1st KFC Twenty20 International at the ANZ Stadium in Sydney today defeating India by a comprehensive margin of 31 runs. Asked to bat first under overcast conditions, Australia posted a total of 171 for 4 in 20 overs. It wasn't thought to be a huge total mid-way at the match interval but the Aussie bowlers got the better of the Indian batsmen to strangle them for a defeat.
While David Hussey scored a crucial 42 from 30 balls including three sixes and followed it up by dismissing two key batsmen with his off breaks, the Man of the Match eluded him and was given to Matthew Wade! Australia's opener for today's game along with David Warner was Matthew Wade, who is also the Wicket Keeper in the side. The left-handed Wade playing in his 3rd T20I and also his third international for Australia was the top scorer of the match with his 72 that came in 43 balls with 5 fours and 3 sixes.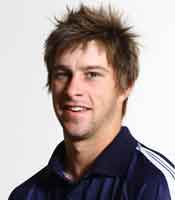 The 24-year-old Wade has registered his highest score and also a maiden T20I fifty with today's knock at Stadium Australia. Wade with this knock will put pressure on Brad Haddin to grab his spot in all formats of the game. We will have to see if the left-handed Matthew Wade can cement in his place in the Australian side with consistent performances or not. Well here are the highlights of Matthew Wade's innings as recorded by Cricwaves.com in today's 1st T20I at Sydney:
Over 1.4 PS Kumar to MS Wade, Boundary, moves back and edges it wide of the diving first slip and gets away with a boundary.
Over 7.1 R Ashwin to MS Wade, Sixer!!, gets forward and swings it across to send the ball packing over long on for a six!
Over 10.3 RA Jadeja to MS Wade, Boundary, makes room and blasts that flat over extra covers for a boundary.
Over 12.3 RA Jadeja to MS Wade, Boundary, goes back and pulls the half tracker off his pads to fine leg for a boundary.
Over 12.4 RA Jadeja to MS Wade, Sixer!!, brings up his maiden T20I fifty in 34 balls with a six over long on after clearing his frontleg and giving it a clean swing of the arms!
Over 12.5 RA Jadeja to MS Wade, Boundary, steps out and smacks it flat towards wide long on for a boundary.
Over 13.1 PS Kumar to MS Wade, Boundary, leans back and cuts it hard past the fielder at backward point for a boundary. Rohit leaped up for a catch but could only get finger tips to that.
Over 13.6 PS Kumar to MS Wade, Sixer!!, goes back and pulls the slower one over backward squareleg for a six. The ground looks really small on the sides!
Over 15.4 SK Raina to MS Wade, BOWLED HIM, Wade goes back making room for a late cut but only to get beaten by a quicker one and has his off stump rattled!