Ian Bell made a brilliant comeback to one-day cricket, registering a sublime ton, which enabled England to take a 1-0 lead in the ODI series against West Indies. And while Bell did play a brilliant knock on Sunday, concluding that England have found a replacement to Kevin Pietersen in one-dayers would be rather premature. This is because Bell has never had trouble scoring runs at home. It has been away that he has struggled in both formats of the game. This is why England should wait till they tour abroad again, before concluding whether Bell is indeed the right choice to replace Pietersen.
With due credit to Bell and his superlative knock against West Indies, the breakdown of his figures tells the story of his career. In 64 one day games away from home, Bell averages a meagre 28.64. Also, he hasn't stood up against bigger teams while playing on foreign soil. While he averages 80 and 40 in Ireland and Zimbabwe respectively, his average in Australia is 26, that against India is 31, and in New Zealand is 29. The figures are even worse in South Africa and Sri Lanka, where he averages 13 and 15 respectively. He averages below 30 even in West Indies, which doesn't say a lot about his overall batting ability. Also, he has never scored a hundred away from home, another prerequisite to be considered a quality batsman.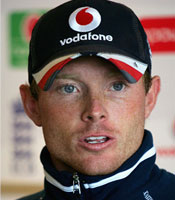 Leave aside ODIs, even in Tests, Bell has struggled to score away from home of late. In fact, in the three games that he played for England against Pakistan in the UAE, he managed to gather only 51 runs at an atrocious average of 8.5 and a highest of 29. He looked in no sort of control at all against the rampaging Pakistan spinners. He went to the UAE rated among England's best player of spin, but returned with his reputation dented.
The problem with Bell has not been that of form. It is just that there have been two different Bells –one who is a rockstar at home and the other a pale shadow of his sublime self when playing abroad. Consider this -- Bell scored big at home against India, failed in the sub-continent miserably, but returned to his best as soon as the Windies arrived in England. That only five of Bell's 16 Test hundreds have come away from home is another testimony to this argument. His Test average of 39 abroad is also significantly lower than that of his overall average of 47.
No doubt Bell has made a tremendous comeback to ODIs. He still has a point to prove though.
--By A Cricket Analyst