- By Garfield Robinson
Perhaps it is because they think it certain that this game will end in a tame draw; or perhaps they feared there would have been more disruptions due to the weather; or maybe it was the ticket prices; £43 is a lot of money in these hard times. But whatever it was those who chose to stay away from today's fourth day of the Egbaston test missed the most entertaining day of the series.
Tino Best, the Barbadian pace bowler, walloped 95 and, in the process, exceeded the record of runs scored in an innings by a number 11 batsman and led the West Indies to an imposing 426. His partnership with Denesh Ramdin was worth 143 and the wicketkeeper was left unbeaten on 107. At stumps England was 221/5, still 55 away from the follow-on total, which is now 276 instead of 326 because of the two days lost due to rain.
Ramdin added much to the day's drama too, for when he got to his hundred he unwrapped a hand written note to Viv Richards from his pocket and gesticulated emphatically in the direction of the pressbox. The note read "YEAH VIV TALK NAH," and was apparently a response to something the West Indian great said about the deterioration of Ramdin's cricket. It was an unnecessary gesture. The hundred was response enough, and, in any case, one century—or even two, which is the number Ramdin has—does not a good test batsman make. Also, he should realize that the Master Blaster is now a pundit. It is his job to give opinions on players.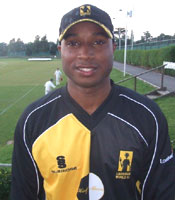 But the day belonged to Tino Best. He was at the crease for the fourth ball of the day because Ravi Rampaul fell to the third and immediately had England on the retreat as he tonked them all over the park. Tonked may be misleading, however, as many of his shots were of the highest quality. His first boundary,for instance, was an exquisite lofted drive over mid-off with his left elbow high in the manner of Marlon Samuels. He held the pose long too, as he would do on many other occasions.
Early on in the piece, he swung so violently at a delivery outside off that the momentum of the wielded bat lifted him in the air like a helicopter. He then stepped down the wicket and smilingly indicated to his partner the area in the stands he was aiming for. He drove through the offside with power and style and no bowler was spared. Finn was driven twice for boundaries over cover in one over, as was Onions. And Swann too, when he dropped two deliveries slightly short, this time off the back-foot. His 50 came up with a single off Bresnan, and the celebration was exultant.
Ramdin was 60 overnight and would probably have harbored some doubt about reaching to his century after Rampaul was only able to last three deliveries. But Best would soon put his mind at ease and he did not hesitate to give up the strike in order for the Tino Best show to continue with as little interruption as possible. He reached his landmark in the morning's 24th over when he took Bresnan off his hip and down to long leg for a single. Before that, when 69, he was put down in the gully when a cut off Finn flew too quickly for Pietersen to hold. And while he wasn't at his most fluent, he played nicely through the leg-side.
By this time Best was 71 and he loudly asked his partner to "Bat for me now." It was therefore clear that a hundred was on his mind, though that thought did not quell his extravagance. He hit Bresnan for six high down the ground, and that was after a blistering cut for four in the same over. But as he got to his nineties scoring seemed to become more difficult. On 95 he swatted at a clever slower ball from Onions, the top edge flew high for Andrew Strauss to take the catch running back from first slip and understandably he bowed his head in disappointment.
Yet he would have been very proud to play the most entertaining innings of the series. And you could tell he enjoyed it too: a wide smile hardly left his face and during the entire innings his mouth ran almost as fast as his bowling later in the day. He chatted to his partner, to the fielders, and to himself. It is a day he will never forget; nor will his children and grandchildren.
Overall the West Indies had a good day. Theyprised out three wickets for just 49 runs before Ian Bell and Pietersen came together for a rollicking 137 run partnership. Pietersen especially was very forceful, scoring his 78 off just 81 balls, while Bell, as delightful as ever, was unbeaten on 76. Their union ended when Marlon Samuels had Pietersen pushing at a straight delivery that found his bat's edge. He was well caught by a diving Darren Sammy at slip.
The major threat that was expected to come from Sunil Narine never materialized. There was not much turn on offer and Bell and Pietersen pretty much did as they pleased, taking him for 70 runs in his 15 overs. If he didn't know before, the Trinidadian will have now realized that taking wickets when batsmen are chasing after you in Twenty20 cricket is a far different proposition than taking wickets in test matches when the batsmen are willing to sit and wait. Still, it would be harsh to judge him on just one outing and he will undoubtedly have better days.
Ravi Rampaul was the first to strike in the England innings when in his second over he pitched one inline and straightened it to hit Alastair Cook dead in frontwhen he was four. The review only confirmed what was apparent to all who were in a good position to view the dismissal.
Sammy replaced Best after his opening four over spell. In his second over Jonathan Trott attempted a lazy cut shot and diverted the ball onto his stumps. He made 17.
The wholehearted Best does everything with gusto. He seems to strain every sinew to deliver every ball at maximum pace. He was often too short but his pace hurried every batsman at some point. He got Strauss with his second delivery of his second spell, cutting at one that bounced and Darren Bravo held a spectacular catch at slip. Later, in his 12th over, Jonny Bairstow was late on one that bowled him for 18.
Curiously, with the floodlights on there were still two stoppages for bad light, once even when Pietersen and Bell were stroking it all round and seemed to have no difficulty seeing. With the surface playing so well it is very unlikely the West Indies will be able to force a win on the last day.