West Indies wicket-keeper Denesh Ramdin registered his second Test century on Sunday in the rain-marred Edgbaston Test. His second hundred came in his 45th Test and, ironically, while Ramdin held up a chit which read 'Yea Viv talk nah' after reaching the landmark, he was only confirming the point the great Viv Richards made about him. Richards had recently said that Ramdin's career had deteriorated rapidly, which it indeed had considering he was averaging only 22 in 44 Tests prior to this match. If anything, instead of holding up that message, Ramdin should have thanked Richards for inspiring him, and should believe that the knock would restructure his career from hereon.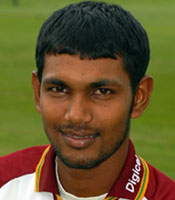 In every cricketer's life there comes an innings, which seems like a watershed one for them. While some build on that key success others continue to falter. VVS Laxman's 167 at Sydney gave him the confidence that he belonged at the international level. Further, Matthew Hayden's tour of India in 2001 saw his international career get a new lease of life. Also, Andrew Symonds' ton against Pakistan in the 2003 World Cup reignited his international. There are many such instances of similar occurrences in internationalcricket. Ramdin's ton on Sunday could also prove to be a similar watershed moment in his career. Although Ramdin has got a Test century before, that came a while back. His latest knock came in tough conditions, and at a time when his place in the team was under severe threat.
Unlike the 80's and the 90's, a wicket-keeper's responsibility is not just limited to doing a job behind the stumps and scoring the odd half-century. Ever since the emergence of Adam Gilchrist, the definition of a wicket-keeper has changed. A gloveman is now expected to contribute as consistently as a top or middle-order batsman. This is where Ramdin has been faltering constantly. He has registered only 8 fifties in 77 Test innings, not enough for a wicket-keeper batsman in international cricket. Understandably, he has been under pressure for his place in the side. In fact, Ramdin and Carlton Baugh have been constantly replacing each other in the spot over the last couple of years. Sadly from Windies' point of view, neither has done justice to the job.
Following his latest century, Ramdin has a chance to establish his place in the squad as the permanent wicket-keeper. He needs to use the confidence gained from his Edgbaston ton and convert his career into one that illuminates Windies cricket.
-- By A Cricket Analyst