In what could be a massive blow for hosts Australia, David Warner could miss tomorrow's Second Final of the CB Series at the Adelaide Oval because of a sore groin. Warner batted out the entire 50 overs yesterday to score 163 which set up Australia to a 15-run victory in the first final at Melbourne.

Warner took a lot of heavy load in the first final by batting the entire Australian innings. Towards the end of the Australian innings, the 25-year-old Warner was panting when he had to run the twos and threes in what was his maiden century in ODI Cricket. Warner didn't come out to field in the Sri Lankan innings and his job was done by Peter Forrest.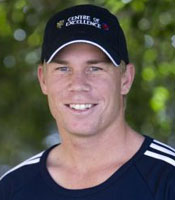 According to the Cricket Australia official website, Warner has revealed that somewhere during the 44th or the 45th over, he had strained his groin when turning back for a run. With just one day gap between the two finals, it will be a tough task for Warner to recover from the groin injury to play tomorrow's match at the Adelaide Oval.

Australia will have to replace Warner with Peter Forrest should the former fail to recover on time for tomorrow's second final. Shane Watson will return back to his opening slot in case Warner is going to be out of the match.