England crushed Pakistan by 130 runs in the opening ODI at Abu Dhabi thanks to a superb new ball spell from the tall Steven Finn. Pakistan needing 261 to win were bundled out in 35 overs for just 130.
Steven Finn bowled a terrific spell with the new ball which left Pakistan reeling at 40 for 4 by the 9th over. His demolition act started in the 3rd over when opener Mohammad Hafeez (5) and Asad Shafiq were both lbw in consecutive deliveries after getting beaten for pace and playing right across the line to Finn's inswingers. Finn in the 7th over removed a good looking Younis Khan (15) with one that jagged back with bounce to force an inside edge which was brilliantly caught by the Wicket Keeper Craig Kieswetter.
In the 9th over, opener Imran Farhat nicked behind Finn's late outswinger when he was looking to drive him on the up straight down the ground. Pakistan's hopes of making a fightback perished in the 15th over when Skipper Misbah-ul-Haq (14) played along the wrong line to a Samit Patel delivery to get struck on the backpad infront of middle leaving his side at 53 for 5.
England then chipped away removing the last three capable batsmen – Shoaib Malik, Umar Akmal and Shahid Afridi without giving away too many runs to have Pakistan at 109 for 8. All the three wickets went to the English spinners. First to depart was Shoaib Malik (7) who came down the track and dragged a Samit Patel full toss into the hands of Pietersen at mid on in the 21st over. Umar Akmal (22) was stumped out after he had overbalanced in a frontfoot defence and got beaten by a straighter one from Swann outside off. Shahid Afridi after a cameo of 28 from 24 balls (with 4 fours) holed out to long off while trying to loft Samit Patel for a six.
Swann added a second wicket when he hit the pad of Umar Gul with a turning off break and in the 35th over, Broad had Saeed Ajmal miscuing a big shot to straight mid off to wrap up things. Pakistan folded in just 35 overs thanks to Finn's 10-1-34-4 and also Samit Patel's three wickets. Ironically, Pakistan couldn't even go past Alastair Cook's score of 137! Cook also got the Man of the Match award ahead of Saeed Ajmal and Steven Finn.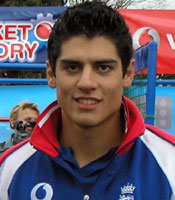 Highlights of England Innings: England have set Pakistan a competitive target of 261 to chase in the opening ODI at the Sheik Zayed Stadium in Abu Dhabi. Skipper Alastair Cook led the way for England scoring a 3rd ODI century. However, England despite getting a perfect launch pad of 188 for 2 in the 38th over finished at a disappointing 260 for 7. Saeed Ajmal turned things around for Pakistan taking five wickets.
It was a solid start of 57 in 12.4 overs from Cook and Pietersen until the latter got castled by a quicker leg break from Shahid Afridi. Pietersen scratched around making 14 from 36 balls as a make-shift opener. Just the ball after KP's exit, Afridi cleaned up Jonathan Trott with a quick googly to send him back for a duck! England was under pressure at 57 for 2 but the pair of Cook and Ravi Bopara consolidated England beautifully. Cook got to a third ODI century while Bopara got his half century.
The third wicket partnership which was worth 133 runs was broken in the 38th over when Bopara (50 from 69 balls with 4 fours) charged down the track for a slog but only to get stumped out off Saeeed Ajmal. Eoin Morgan (2), the next man got out lbw cheaply when he attempted a reverse sweep in Ajmal's next over. England struggled in the next five overs or so as Craig Kieswetter failed to get going. He got caught miscuing Ajmal to deep point. In the 47th over, Alastair Cook (137 from 142 balls with 14 fours) was bowled round his legs in a predetermined sweep off Ajmal leaving England at 230 for 6.
It was only after the end of Saeed Ajmal's bowling spell of 10-043-5 that England could find some runs to reach 260 for 7. Apart from Ajmal, Mohammad Hafeez who opened the bowling sent down 10 overs on the trot going for just the 30 runs. Afridi played his part taking two consecutive wickets at the start,
Toss and Teams: England have won the toss and elected to bat first in the First ODI at the Sheik Zayed Stadium in Abu Dhabi against Pakistan. England will go into the match without Tim Bresnan who has just returned back to the squad after an elbow injury. Pakistan who defeated Afghanistan the other day at Sharjah have retained the same XI.
Here are the playing XIs:
England Team : AN Cook (Captain), KP Pietersen, IJL Trott, RS Bopara, EJG Morgan, C Kieswetter (Wicket Keeper), SR Patel, SCJ Broad, GP Swann, JM Anderson and ST Finn
Pakistan Team : Mohammad Hafeez, Imran Farhat, Asad Shafiq, Younus Khan, Misbah-ul-Haq (Captain), Umar Akmal (Wicket Keeper), Shahid Afridi, Shoaib Malik, Umar Gul, Saeed Ajmal and Wahab Riaz