Garfield Robinson writes on the action at Trent Bridge, Nottingham on Day 1 of the 2nd Investec Test – England Vs West Indies
For a while now, the West Indies batting has revolved around the almost unmovable ShivnarineChanderpaul. Today, however, he ceded the stage to Marlon Samuels who put on a batting master class in making an unbeaten 107 to lead his side to 304/6 at close of play.He was joined by his captain when his side was in serioustrouble at 136/6 and together they added 168, the highest seventh wicket partnership ever at Trent Bridge.
As he did at lords, he exhibited remarkable restraint, allowing many deliveries to go by, defending diligently against any hint of danger, and yet the appropriate delivery was dispatched to the boundary with aplomb. He has always been a divine stroke player who, if anything, was susceptible to the soft dismissal. But on the evidence of this hundred, and also his 86 at lords, he has now added much needed steel to his game.
In the period before tea he scored mainly off his front foot, driving sweetly through the covers and down the ground. After the break he unsheathed three exquisite drives off the back foot to bring up his 50, two of which reached the cover boundary. His century came in the days penultimate over, when he glanced Anderson to the long leg boundary for his 15th four.
He had good reason to be thankful that the DRS is in place, for when he had scored just one, the umpire raised the figure in response to the LBW enquiry that Hawkeye showed was bouncing well over the stumps. The crowd would have been thankful too, because a grave error would have robbed them of the chance to witness batsmanship at a very high level.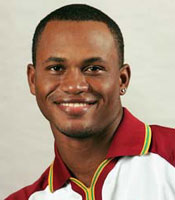 The day did not totally belong to Samuels, however. He had to share the stage with his captain, who played a forceful 88 off just 121 deliveries. Whereas Samuels was all grace and timing, Sammy interspersed some unorthodox power hitting with some nicely struck drives. He played two drives of his front foot and held back the follow through in a manner reminiscent of Hashim Amla, the South African stylist, while he bludgeoned Graham Swann high over the long off boundary, though he only connected with a thick outside edge.
He had some problems with the second new ball, and two fours went inadvertently to the third man boundary when Anderson squared him up. The same bowler almost had him LBW too, but Aleem Dar said no when Hawkeye indicated that the decision would have stood either way.
All this was too much for a frustrated and James Anderson who had a few words with the batsman, and was so enraged that the umpire had to then have a word with his captain.
Sammy will be hoping to move to his maiden test hundred on Saturday.
While England played the same team from the Lords test, The West Indies made two changes. Shannon Gabriel suffered a back injury and had to return home, while Fidel Edwards, whose bowling was just ok in the first test, also had to make way. Their places were filled by Ravi Rampaul, returning from a neck injury, and Shane Shillingford, the Dominican off spinner who did well against the Australians in the Caribbean.
Sammy called correctly at the toss, and sensing that the wicket held no early terrors, decided to bat. It was a decision that he probably had second thoughts about when they were reduced 63/4 within 19 overs, and again when they were at 136/6.
Yet there was nothing sinister about the bowling. There was a little bit of swing, but once again the visitor's top order was found wanting against bowling that, except for Stuart Broad was mainly decent. Adrian Barath again showed a tendency to throw his bat outside off stump and was pouched, one-handed by James Anderson going to his left at third slip off Broad.
Kirk Edwards continued to show that he might get very few runs this series when he appeared to be late on a deliver that seamed in from Anderson and lost his off bail. And this was after Bresnan failed to hold him, low and to his left, at third slip.
Kieran Powell got to 33 after some near misses and also some pleasant shots. But Broad then forced him to edge a good length deliver to Anderson, in good catching form in the slips. And Bravo had only scored three, when he aimed a loose drive to cover and Swann held the edge at second slip.
In the meantime, Chanderpaul had arrived and began like a house on fire. Or so it seemed, considering the measured manner in which he normally begins. At lunch he was 19, made off just 24 deliveries with four boundaries. A few were streaky and when he nicked Anderson between Swann and Bresnan in the slips, Andrew Strauss must have wondered if that was going to be their only chance of removing the West Indian rock. But when he was 46 Swann bowled him a well tossed up delivery that did not hit his off stump only because his back leg was in the way. Umpire AsadRauf felt it would have missed, and Chanderpaul would have gotten away with it but for the DRS.
Thereafter, Ramdin was the only success that came England's way, as Samuels and Sammy stayed undefeated till the end. A score of well over 400 should be on their minds for Saturday.