It has been a tour West Indies would like to forget. There has been no resurrection of any sorts, if at all anyone expected so. They were run over by the Englishmen on the basis of superior talent, and failed to compete in the one-dayers as well despite the presence of Chris Gayle and Sunil Narine. Which begs the question -- what exactly do they need to do to start winning? The answer is pretty simple actually. It is one thing having big names on the score sheet and another translating that ability into performance. The big names need to deliver in the T20 at Trent Bridge if the Windies want to end a disappointing tour on a high note.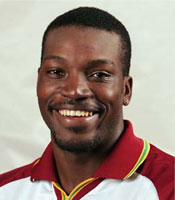 The lone T20 gives the visitors their best chance to seal a victory. Firstly, the format doesn't need all the players to be at their best. Also, they have the players who can exploit the format. Anyone from their top seven can prove match-winners on the day. In Dwayne Smith and Chris Gayle, they have two in-form openers who had an excellent IPL for different franchise. Both will be keen to carry on their good work into international cricket. If both Smith and Gayle can fire in tandem, they could put England under severe pressure.
Further, in Marlon Samuels, West Indies have a rejuvenated cricketer, who can be extremely handy with bat and ball. A lot will also depend on the performances of their three all-rounders – Dwayne Bravo, Kieron Pollard and Andre Russell, all of whom are likely to feature at Trent Bridge. The good news is that all of them have been in reasonably good touch of late, which should give West Indies the confidence to compete in the game. Again, they have to perform since past records don't count for much.
Among the bowlers, it would be interesting to see if Sunil Narine can do something similar to the IPL. Seems difficult since England, somewhat surprisingly, haven't had much trouble against him so far. What will encourage Darren Sammy though is the fact that Kevin Pietersen won't be part of the opposing squad, as his decision to quit ODIs automatically ruled him out of the T20 format as well even though he was keen to play.
Pietersen has been replaced by Alex Hales, who is being promoted as England's next big T20 player. Even though he scored a half-century against West Indies last season, Hales hasn't quite managed to maintain his consistency. He will have the big boots of Pietersen to fill. He cannot be expected to perform on the same scale, but runs from him will reduce one of England's headache.
Leaving aside Pietersen, they have a pretty balanced squad, just like West Indies. It's difficult to predict a winner in T20s. However, the performance of Windies' big hitters will make a difference for sure.
--By A Cricket Analyst