Pakistan are in good position to clinch a 3-0 whitewash after a solid batting show on the second day of the Third Test at Dubai having kept England down to a slender lead of 42 runs. By Stumps on Day 2, Pakistan are sitting pretty at 222 for 2 in 82 overs.
A superb unbroken stand of 194 runs for the 3rd wicket between Azhar Ali (75 from 246 balls with 3 fours and a six) and former Skipper Younis Khan (115* from 195 balls with 11 fours and a six) has put Pakistan in charge with an overall lead of 180 runs. With plenty of batting left, Pakistan should consider themselves favourites to win this match while England would be hugely disappointed for missing out on a golden opportunity! Nobody would have expected Pakistan to be in a winning position once they were bundled out for a paltry 99 on the opening day.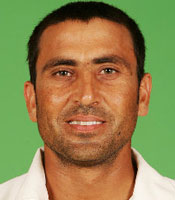 It wasn't a bright start for Pakistan in their second innings with Taufeeq Umar (6) edging James Anderson to the slips in the 7th over. In the 10th over, England felt good when Monty Panesar had an aggressive Mohammad Hafeez (21 from 36 balls with 3 fours and a six) missing an ambitious sweep shot to get lbw leaving Pakistan at 28 for 2.
Pakistan went to Lunch at 30 for 2 but for the next two sessions, England failed to get any wickets! Younus Khan scored a 20th Test century while Azhar Ali kept his end safe with his solid batting to leave England wicketless for as many as 72 overs!
England Bowled Out for 141: Left-arm spinner Abdur Rehman captured his 2nd five-wicket haul of his Test career to bring Pakistan back in the Third Test at the Dubai International Cricket Stadium today. England collapsed to 141 all out in 55 overs to capture a slender lead of 42 runs. The match hangs in a balance with Pakistan very much capable of getting into the driver's seat but only if their batsmen do a good job. The pressure will be on England though to bowl out Pakistan cheaply for a second time in this match.
The second day's play started with England at a shaky 104 for 6 in reply to Pakistan's 99. Overnight batsman Andrew Strauss on 41* and night watchman James Anderson began the day for England. In just the first over of the morning, James Anderson (4) was dismissed when Abdur Rehman spun one through the bat pad gate of the left hander after luring him into a booming drive. Very soon, Saeed Ajmal foxed Stuart Broad (4) with a doosra to have him lbw though it required a review from Pakistan to change the Umpire's decision in their favour.
In the 54th over, Skipper Andrew Strauss (56 from 150 balls with 5 fours) gave it away when he charged down the track too soon for a desperate slog and allowed Abdur Rehman to fire a wide delivery outside off to have him stumped. The English innings ended in the 55th over when Graeme Swann (16) got caught at deep backward squareleg when he went for an almighty heave against Saeed Ajmal. While Abdur Rehman finished with 5 for 40 in 21 overs, off spinner Saeed Ajmal continued to trouble England taking 3 for 59 in 23 overs.