Cricket is a unique sport in the sense that you can be a great even if you specialise in any one aspect of the game. July 27 marks the birthday of two legends of the game, and corroborates opening statement of the article -- Allan Border and Jonty Rhodes. One was a moderately talented batsman, who played above his limitations and was among the best of his era. In addition, he was an exceptional captain, whose leadership revived Australian cricket from the depths of despair. The other cricketer in question was undoubtedly the best fielder in the modern era, and arguably the most electrifying ever. Rhodes wasn't a sensational batsman, but he combined his supernatural fielding skills with his street smart batting style to become one of South Africa's greatest ever.
The similarities between Rhodes and Border don't end there. Both players had a key role to play in the renaissance of their nation's cricket. When Border took over the reins of Australia, the side was in total disarray. An extremely gifted cricketer named Kim Hughes couldn't guide the Aussies forward during his time as leader of the side. Instead, he left the cricketing scene with tears in his eyes, unable to handle the pressure. The story of Hughes' downfall remains among cricket's most famous case studies.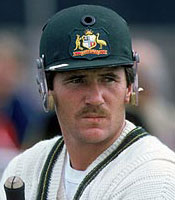 It was amidst this chaos that Border walked in, and kicked off what would go on to become a dominant phase in Australian cricket. Aussies did not taste success overnight under Border. However, gradually, the little left-hander built a team of fighters, who would not succumb under any circumstances. It helped that Border himself was among the best batsman in the team during that transition phase in Aussie cricket. And once the ball was set rolling by Border, there was no looking back for Australia. The World Cup win in 1987, on the sub-continent, was great reward for a team that had built its arsenal brick by brick, but solidly. Border was the inspiration for the likes of Steve Waugh to follow. Waugh's mental strength resembled that of Border's, and the next decade and a half completely belonged to Australia. Three World Cup wins in a row, and victories against all top class Test teams, long after Border had quit, the indelible mark he left could still be felt.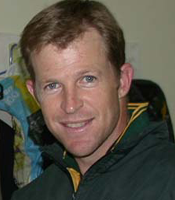 Rhodes' contribution to South African cricket was stupendous in an altogether different way. The Proteas had just been reintroduced into international cricket following apartheid. They were seeking someone who could be the face of the national cricket team. Rhodes stood out not only because of his breathtaking fielding, but also for his effervescent charm that made him a hit even with opponents. There came a time when fans used to turn up at the stadium to actually watch Rhodes field. Rhodes redefined the way teams viewed fielding, and that itself will remain his greatest contribution to the game.
In their own unique ways, Border and Rhodes have left cricket richer.