Garfield Robinson writes on Day 4 of the 2nd Investec Test - England Vs West Indies at Trent Bridge, Nottingham, May 28, 2012
England easily completed a nine wicket victory at Trent Bridge and so will travel to Egbaston already assured of a series victory. This is their seventh successive home series victory.
Set 108 to win after the visitors folded for 170. Alastair Cook and Andrew Strauss ensured there would be no hiccups with an 89 run opening partnership, before the captain tamely drove Marlon Samuels to extra-cover for Bravo to take the catch. He made 41, but when he was 34 he probably might have been caught behind had Ramdin attempted the catch from an edge off Darren Sammy that went to his left. Jonathan Trott then joined Cook and saw England home in the final session.
Kemar Roach and Ravi Rampaul did not seem to be overly exerting themselves and so the hosts advanced untroubled, with Strauss, obviously high on confidence, even taking Roach for three boundaries in his third over. Towards the end, however, Shane Shillingford, whose bowling did not meet expectations, elicited enough turn and bounce to suggest that he could have been troublesome had they been able to extend the game into the last day.
For over an hour in the morning session Samuels and Sammy tried their best to prolong the match. But immediately after the water break, Tim Bresnan had Sammy LBW. He requested a review, but with Hawkeye showing the ball clipping the top of the stumps, and the umpire's decision stood.
Bresnan had been bringing the ball sharply back into the right-hander all innings, and it was evident that Sammy was laboring manfully to avoid the mistakes of his colleagues and previous LBW victims by trying to avoid getting caught on the crease. On 25 he wavered, and became Bresnan's fourth LBW casualty. With this man-of-the-match performance the Yorkshire paceman would have kept the voices pining for Steven Finn at bay.
Roach came and made 14 before he was LBW to Anderson after the hosts requested a review. In one over from Broad the Barbadian struck three boundaries, one a pull-shot that ended with his left leg held high in the manner of his countryman and former West indies great, Gordon Greenidge.
Shillingford survived 22 deliveries before Swann, belatedly introduced into the attack, had him well caught by Anderson at slip. He did not score. And Rampaul didn't either, when Anderson had him caught by Bresnan at slip, off one slightly short and angled across him.
All this time Samuels was batting as felicitously as he ever has. His driving through extra-cover was exquisite, and was matched by his on-side play. His lone blemish came when he was 42 and gave an edge off Jimmy Anderson delivery that would have flown down the throat of second slip had there been one.
Joined by last man Rampaul, he launched into Swann and smote him for 16 in one over: four, six and six, with one six bringing pain to the hand of an elderly lady seated in the stands. He finished on 76, and would no doubt have fulfilled his promise of back-to-back hundreds to the chattering English fielders, had he not run out of partners.
These West Indianswere supposed to be walkovers. And though victory was achieved easily enough, the hosts had to dig deep to overcome a team that sometimes rose above itself in defiance.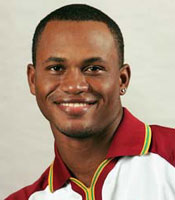 Marlon Samuels was previously remarkable only for dramatically failing to realize his obvious talent as a batsman. But with 310 runs so far this series he has provided both class and steel to the West Indies middle order.
Darren Sammy, their often-reviled captain, showed that while his bowling might require some zip, his batting could become a consistent and dangerous if he employed some restraint. Ideally, another front line fast bowler would improve team balance, but Sammy would have to become a reliable number 6 batsman.
What the visitors are most in need of, however, is a top order that will not fall away so readily. They are probably stuck with the incumbents for this series but that should be the first order of business once the series is over.
Barring injury, the England team should remain unchanged when both teams report to Edgbaston for the third test.