By BV Swagath
Stumps on Day 2: Rain had the last laugh on Day 2 at the SSC eating up almost half of the overs. Pakistan had to settle with a total of 488 for 4 in 134.2 overs with only three full days left to force a result.
Play resumed at 2:00 PM after an early lunch break following a rain break. Pakistan went onto lose a couple of wickets in the post lunch session with first Younis Khan (32 from 68 balls with a four) lbw to Rangana Herath after failing to connect a sweep shot.
A little while after Younis' departure, Azhar Ali exited as well when his reverse sweep off Suraj Randiv which was caught at backward point. Like Hafeez, Azhar Ali also missed out on his double century. Azhar settled with 157 which came in 295 balls with 9 fours.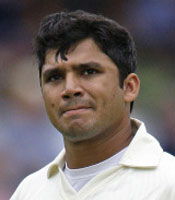 At around 3:20 PM local, rain once again arrived at the SSC and that was the end of Day 2 with Pakistan stranded at 488 for 4. Skipper Misbah-ul-Haq (29* from 40 balls) was at the crease with Asad Shafiq at the time of the rain interruption.
Lunch on Day 2: Rain hit the Sinhalese Sports Club Ground about 10 minutes before the scheduled Lunch Break on Day 2 with Pakistan at 404 for 2 in 116.2 overs.
Pakistan lost one wicket that of Mohammad Hafeez in the morning session with the opening batsman missing out on his maiden double century by just four runs. Hafeez lost patience as he went for a high risk slog sweep while exposing his stumps and got bowled by a flighted delivery from Rangana Herath. Hafeez's 196 came in 331 balls with 20 fours and a six.
Azhar Ali on the other hand got to his milestone as he registered a 3rd Test hundred. He remained unbeaten on 121 (from 250 balls with 7 fours) along with Younis Khan, who is on 14*.
Build Up to Day 2: Pakistan resume Day 2 of the Second Test at the SSC in a great position of 334 for 1 with Mohammad Hafeez on 172* and Azhar Ali on 92*. Both the batsmen are closing in on their respective milestones. For Hafeez, there could be a touch of anxiety as he has never scored a double century in Tests.
As far as the pitch is concerned, it looks absolutely placid. However, we could see the odd ball turning rapidly with the pitch getting drier and drier under the heat. The game plan is simple with Pakistan looking to get to 550 atleast before declaring and see if they can make any inroads with the new ball. Sri Lanka will hope that the Pakistani first innings is prolonged and also pray for bad weather to kill some time in the Test match.