The sun may be out at Trent Bridge, but the same cannot be said of the West Indians, who succumbed to another Test loss at Lord's after competing hard. The frustrating aspect of Caribbean cricket under the Darren Sammy regime has been that while they haven't been listless like some teams of the recent past, they have failed to perform consistently over five days of Test. And that has resulted in them coming second best in most of the contests. The Lord's game was no different.
Going into Trent Bridge, they have a lot of thinking to do. Significantly, for West Indies to do well, they will need their top three to perform. Adrian Barath, Kieran Powell and Kirk Edwards had a poor match at Lord's, but their performance in earlier matches hadn't been any better. Clearly, West Indies are missing the services of their talisman Chris Gayle. The sooner her returns to the side, the stronger Windies line-up will get. Although his comeback won't guarantee success for the side, at least not instantly, his presence should be enough to inspire the team on to better things. Hopefully for theWindies, his issues with the WICB have been sorted out.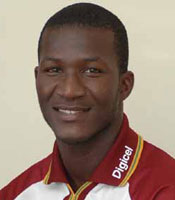 Another chief reason why Sammy's men have been struggling is the lack of support for Shivnarine Chanderpaul. The left-hander was exceptional against England in the first Test as well. All he was needed was for someone to hang around with him long enough. Marlon Samuels did so in the second innings, but the damage had already been done by then. Still, Samuels' knock should inspire confidence in the Windies camp going into Trent Bridge. It will of course help if Darren Bravo converts his starts into something substantial. Even since the beginning of the Australia series he has been getting 30s and 40s, but none of them have been transformed into centuries.
Some modifications have to be made in the bowling department as well. The decision to drop Shane Shillingford for Lord's in spite of his 10-wicket haul at Dominica baffled many. Expect him to be in the XI at Trent Bridge. It wouldn't be a bad move at all, even if it means leaving out the eccentric Fidel Edwards, since England traditionally struggle against spin. The injury to Shannon Gabriel will also force them to bring in another pacer. Although Tino Best has been called up to the side, the dependable Ravi Rampaul is likely to get the nod.
West Indies may have lost their best chance of putting England under pressure. Still, they must try and expose some visible chinks in the English armour.
- By a Cricket Analyst