By Garfield Robinson
Australia held the upper hand at the end of the third day at Windsor Park, Dominica. Dismissing the West Indies for 218, with Chanderpaul again top-scoring with 68, gave them a significant 110 run lead, to which they added 200 runs by the close. With four more wickets to go, and considering the efficacy of the Australian lower this series, the prospect of it growing substantially bigger should prevent the Caribbean side from resting peacefully throughout the night. West Indies captain, Darren Sammy will therefore be doing his utmost, when play resumes on the fourth day, to limit the number of runs his side will need to chase on a pitch still offering generous turn and steep bounce to the spinners.
The batsmen mainly responsible for Australia's total were Ed Cowans, who scored 55, and Ricky Ponting, who made 57. They were brought together at the fall of Watson's wicket at 25, and they added a valuable 87 before Cowan was out, cutting hard at Deonarine for Sammy to take a smart catch to one coming to him at pace. Cowans did not find runs easy to come by--he hardly ever does--and was severely tested by Shillingford, but he and Ponting fought hard and gave Australia a good chance of ending the series 2-0.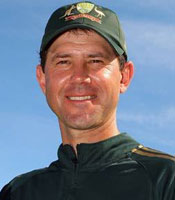 This was Ricky Ponting's last test innings in the Caribbean and he made it count. This was not the free-flowing batsman of years gone by, but, as always, he was good off his legs and even unsheathed a pull-shot or two. On 6 he edged a full-blooded drive just short of Chanderpaul at slip, and he probably should have been taken by at short leg when he turned one from Deonarine just over Barath's head when 27. He went on to make his highest score in a forgettable series by his lofty standards and fell in Roach's tenth over when he left his bat over his head while ducking a short one and Chanderpaul covered much ground to his right at slip to accept the resulting catch.
The West Indies then disposed of Clarke and Wade in fairly short order to end the day on a promising note. Clarke had seemed intent on pushing the scoring along but on 25 he top-edged one that bounced from Shillingford and was caught by Bravo at midwicket. A few overs later Wade was hit on the full by Deonarine and was LBW. Hussey would have been out too had the West Indies not foolishly wasted their two reviews. The umpire gave not out to one that Hawkeye showed had hit him in front and would have crashed into middle and leg. Earlier that same over from Roach they had wasted their last review on one that they should have seen was clearly going down leg.
Chanderpaulhad started the day playing more positively than he did the day before. He still scored without fuss or risk but he seemed more willing to get down the pitch to Lyon and tried harder, it seemed, to manipulate the strike. If the bowlers pitched short he stayed back, waited and played the cut shot late and with precision. On thirty-four overnight he got to his 50 in the day's ninth over when he drove Hilfenhaus' first ball for two over the head of extra-cover.
Rampaul was far more irresponsible. He started proceedings by lofting Lyon down the ground for 4 but in the mornings' sixth over he perished when he ran down the track, tried to heave Lyon over mid-wicket and Warner took the catch off the leading edge at point. He had tried to slog the previous delivery and missed, beaten by extravagant turn, yet that did not urge him towards circumspection. Considering the position his side was in this was a needless dismissal. One would have thought that the plan would have been to stay with Chanderpaul for as long as possible and collect runs without being overly reckless.
Roach showed a far better understanding of the situation. He is always a steady batsman with a very solid defense and has often shown the capacity to survive for long periods. He stayed with Chanderpaul till the end came more than 16 overs after he arrived at the crease. Chanderpaul received an exceptional delivery from Starc. Bowling with a ball just a few overs old he sent down one that shaped to swing away, but then hit the pitch and came in and trapped him in front. It required a ball such as that to get him out, and he will have his work cut out for him again in the second innings.