By Garfield Robinson
If they didn't know before, England today found that their back-up pacers were of high quality when they restricted a hard fighting West Indies to 280/8 at stumps. Graham Onions and Tim Bresnan ended with three wickets each, while the pacey Steven Finn had two.
The most impressive was Onions, he of the impeccable line. Delivering from close to the stumps, the batsmen, both left and right-handed, had to play at almost every delivery. And on a day when all the seamers did well, he was the most threatening.
England had chosen to rest James Anderson and Stuart Broad, while the West Indies had as many as four replacements. The visitors were dealt a huge blow when Shivnarine Chanderpaul suffered a side-strain in the gym, and with Kirk Edwards and Shane Shillingford dropped, they gave debuts to Assad Fudadin and Sunil Narine. Narsing Deonarine, who recently played against Australia in Dominica, and Tino Best, who flew in to replace Kemar Roach were the other two additions.
After being sent in to bat, the West Indies' top order did a little better this time around. They got to 49 before the first wicket fell, and they did not lose the second until after lunch with the score on 90. Nevertheless they owed their total mainly to a sublime 76 from Marlon Samuels and a fighting, unbeaten 60 from Denesh Ramdin.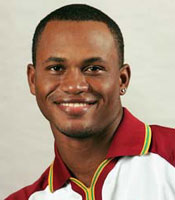 A few months ago, Samuels boasted that the young cricketers at the West Indies' High Performance Centre in Barbados referred to him as "The Batting manual." Well if they were watching today, they would have nodded their heads approvingly, satisfied at the confirmation of their judgment, as almost without fail he presented the bowler with the full face, with his left elbow held high.
Fortunately, for him at least, he has been in stupendous form this series because his first delivery was a 91.2 MPH yorker that he had to dig out. From then on, but for a few deliveries from Onions, he was in total control. As usual, he took a while to asses the situation, but he was more aggressive this time and his 66.66 strike rate was the highest of his five innings this series.
Samuels has been one of the sights of the summer. Always unhurried, his driving through the offside was majestic and he dealt adequately with anything on his legs. On 40 he pranced down the pitch to launch Graham Swann over long on for six, and reached his 50 by languidly driving the next ball through the covers for four. Upon reaching his milestone, he made sure to point his bat in the direction of Onions, with whom he was having an ongoing conversation. Even English supporters would have felt disappointment at the premature end of such a grand performance when Bresnan brought one back into him and had him LBW.
At that time, the visitors were 208/6 and there would have been fears that with Samuels gone the end of the innings would have been imminent. But Ramdin, though looking out of sorts, seemed determined to prolong the innings. He required some luck. Quite a number of shots did not go where he intended, and he sometimes had the wicketkeeper, bowler and slip cordon holding their heads in anguish as deliveries somehow evaded his bat's edge, yet he held on and just might have a chance of reaching triple figures on the fourth day.
Deonarine could only manage seven before he was caught by Andrew Strauss at first slip off Onions. Sammy came in knowing that much was expected of him following his second test hundred. But he was only 16 when he carelessly slashed at one from Finn and was caught by Strauss, who would have been mightily relieved because in Finn's previous over he had put down an easy chance off the same batsman. Narine showed he was not a rabbit with the bat in making 11 and Rampaul was with Ramdin at the close on two.
The first two days of this test was lost due to rain. Eighty millimeters had fallen in 60 hours and the ground staff spent two sleepless nights getting things ready. The decision to field made by Strauss was therefore understandable as it was reasonable to expect some assistance from a surface so long under the covers. Yet the ball faithfully followed a straight line and the batsmen would have been hardly been discomfited by the very little movement that the bowlers extracted.
Barath signaled his positive intentions by sweetly driving his second ball from Bresnan to the cover boundary. But he was fortunate soon afterwards when Onions found his edge and the ball flew straight into Ian Bell's hands at third slip, and then straight out again. Bell then proceeded to grant him the same generosity shortly after lunch when he put down an equally simple chance off Finn. He eventually made 41, interspersing some fine shots with some serendipitous ones. His most memorable shot was a drive lifted high over long-on for six and was out LBW to the admirable Onions. The DRS referral showed the ball clipping leg-stump.
Kieran Powell was lucky to last 43 deliveries because he played and missed a number of times. He is quite an attractive player but needs to overhaul his technique if he is to last at this level.
Fudadin played reasonable well for his 28. He used up 110 deliveries and the bowlers got past his bat on occasion too, but the debutant did enough to show that he could make it. It took a special delivery from Bresnan to remove him. After riding one short delivery he was served up a sharper one next ball and could not remove his glove from its path, and not even Bell could have dropped the easy catch at third slip.
The reputation of a few West Indian batsmen have been diminished this series. Darren Bravo is one of them. Having arrived with a big reputation as an outstanding young player, somewhat in the mold of his cousin and clone, Brian Lara, he has done nothing to show his true abilities. Today he reached six before he gently tapped a return catch to Finn. This tour will not be over too early for him.
With two days lost, this game is likely to end in a draw. Unless something dramatic happens of course, and with the West Indies playing, that is always a possibility.