And so, it was another close Test but another defeat for West Indies. After running Australia close at home, the Caribbeans also competed against England. However, like against the Aussies, their efforts fell short. Going in to the final day, Darren Sammy's men had a reasonable chance of claiming a surprise Test win. They also raised hopes of the same, with a stellar start, dismissing Jonathan Trott and Kevin Pietersen early.
However, none of the bowlers could create any sort of pressure on either Alastair Cook or Ian Bell thereafter. Kemar Roach was the only bowler to create some sort of impression on the batsmen. Defending a modest total, what West Indies needed was a solid effort from the bowlers. Instead what they got what one man bowling his heart out and the rest struggling to build even a semblance of pressure.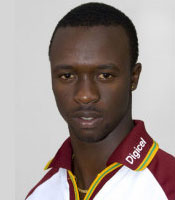 While Roach was effective for most parts, the same couldn't be said of Fidel Edwards, of whom a lot was expected on the last day. The disappointing aspect was that Edwards, now being a senior member of the team, could not come to the party. Edwards' under-performance hurt West Indies even more since a lot couldn't be expected of Shannon Gabriel, who was playing in his debut Test. Even then, the rookie ended up doing better than Edwards, which said a lot about the latter's performance or the lack of it to be precise.
The decision to leave out Shane Shillingford also back-fired big time on the visitors. The bowler, who had picked up 10 wickets in the last Test against Australia, was left cooling his heels in the dressing room as Marlon Samuels tried to fill in his shoes. Unfortunately for the Windies, Samuels' innocuous off spin was not half as effective and allowed Cook and Bell to cruise towards the target.
In spite of the loss, there were some positives of West Indies from the Test. While Shivnarine Chanderpaul continued his unbelievable run of form, Samuels' knock in the second innings and Windies' simultaneous fight back were encouraging. Kemar Roach bowled an inspirational spell late on the fourth day to keep his side in the hunt. At the end of the day though, the lack of teamwork came back to haunt them. Unless West Indies learn to transform winning sessions into Tests, their struggles at this level will continue.
-- By A Cricket Analyst