Former Sri Lankan opener, the legendary Sanath Jayasuriya, turns 43 today. The Matara marauder may be dancing to the tunes of his choreographer in an Indian dance reality show at present. There was a time in international cricket though when bowlers were at the mercy of Sanath, literally dancing to his tunes. As the ex-Lankan skipper adds another year to his age, here's a rewind to the times when Jayasuriya was the king of slam bang cricket, and mind you, this was well before the days T20 preoccupied the cricketing calendar
82 off 44 balls Vs England: 1996 World Cup quarterfinals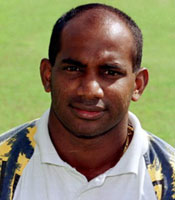 Although Sanath made his debut way back in 1989, it was during the 1996 that the cricket world woke up to the Jayasuriya sensation. Taking a cue from Martin Crowe's 'hitting over the top' tactics in the first 15 overs during the previous World Cup, Arjuna Ranatunga promoted Sanath and Romesh Kaluwitharana from lower-order batsmen to openers. The move blossomed so wonderfully well that it remains the high point of that year's World Cup. Sanath's most brutal knock in the series came in the quarterfinals against England at Faisalabad, during which he bludgeoned 82 off 44 balls against a hapless attack. The gruesome innings featured 13 fours and 3 sixes and made a mockery of England's challenging target of 236. Richard Illingworth was the worst sufferer, being taken apart for 72 runs in his 10 overs. Not surprisingly, Sanath went on to win the man of the tournament, and Sri Lanka the World Cup.
340 Vs India: 1997-98 1st Test at Colombo
If any proof was needed that the Premadasa Stadium at Colombo is a bowler's graveyard, Sanath authenticated that same with his 799 minute stay in the first Test against India in 1997. Batting first, India had amassed a handsome 500 plus score courtesy tons from Navjot Sidhu, Sachin Tendulkar and Mohammad Azharuddin. Sri Lanka replied with a record 952, with Sanath alone compiling 340 of them whilst featuring in a massive stand with Roshan Mahanama (225), which was worth more than India's first innings total. The left-hander never looked in any sort of trouble during his stay, and creamed 36 fours. In hindsight, India were left ruing their decision to declare!
134 off 65 balls Vs Pakistan: 1996 Singer Cup
For Sanath, 1996 was indeed the marque year. After leading Lanka to victory in the World Cup, he blasted 134 off 65 balls against Pakistan during a Singer Cup game in Singapore. The Pakistan attack was not weak in any sense, featuring Waqar Younis, Saqlain Mushtaq and Aaqib Javed. It did not matter to Sanath though as he picked off 11 fours and, astonishingly, as many sixes. The Lankan opener's hundred came off a mere 48 balls, a world record which was broken by Shahid Afridi in that very year. Sanath played another blistering knock in the final of that tournament, slamming 76 in 28 balls. His fifty came off a mere 17 balls, a record that still stands. Ironically, Lanka collapsed after Sanath's departure and failed to chase 216.
213 Vs England: 1998 Oval Test
Sanath made his mark in tough conditions away from home as well. In the Oval Test, England had piled 445 batting first. Lanka were under pressure, but Sanath counter-attacked, and put England on the backfoot. He needed just 278 balls for his 213 and, in the company of Aravinda de Silva (152), took Lanka to 591. Muttiah Muralitharan did the rest.